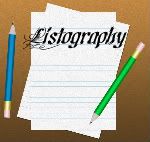 I haven't joined in with Listography for a while
but this week Kate from
Katetakes5
put up an interesting one.
Your top 5 cookbooks.
My first is the classic that is Delia, where would we be without her.
I first used this book when I was still living at home
and it is one that I do not possess but have to get hold of.
Her meringue recipe is fantastic!
My second is Jamie's 30 Minute meals. Another one that I think most people own but
there are many recipes in there that are so simple and take such little time.
They are great for a get together with friends.
My third has to be a Nigella. I just love the way she does it, she is my type of cook.
I have a few of her books, but one in particular has sticky notes throughout -
My fourth is our Bible, it is so well used that it is beginning to fall apart on the spine.
I have added notes to the back pages.
It has some of the nicest cake recipes in it that I tweek. I think it may have been one of the first cookbooks 'we' bought as a couple.
My last fifth one, is a bit random. When I was growing up my mum had this tiny little cookbook that was rammed into her recipe cupboard but she used it all the time when baking. If you didn't look hard enough you'd miss it. When I moved out I asked her if I could have it, she wouldn't let me but set out to find a copy. She must have had it since she got married and we thought that it was irreplaceable but she found it and gave it to me for Christmas in my stocking! It's a fab book for baking, that is all I can say!
Now go on over to
Katetakes5
and check out what everyone else has chosen
(all images were taken from
Amazon
)